Due to the Global Pandemic of COVID-19, Hope for Dementia has postponed their Annual Impact Gala until further notice: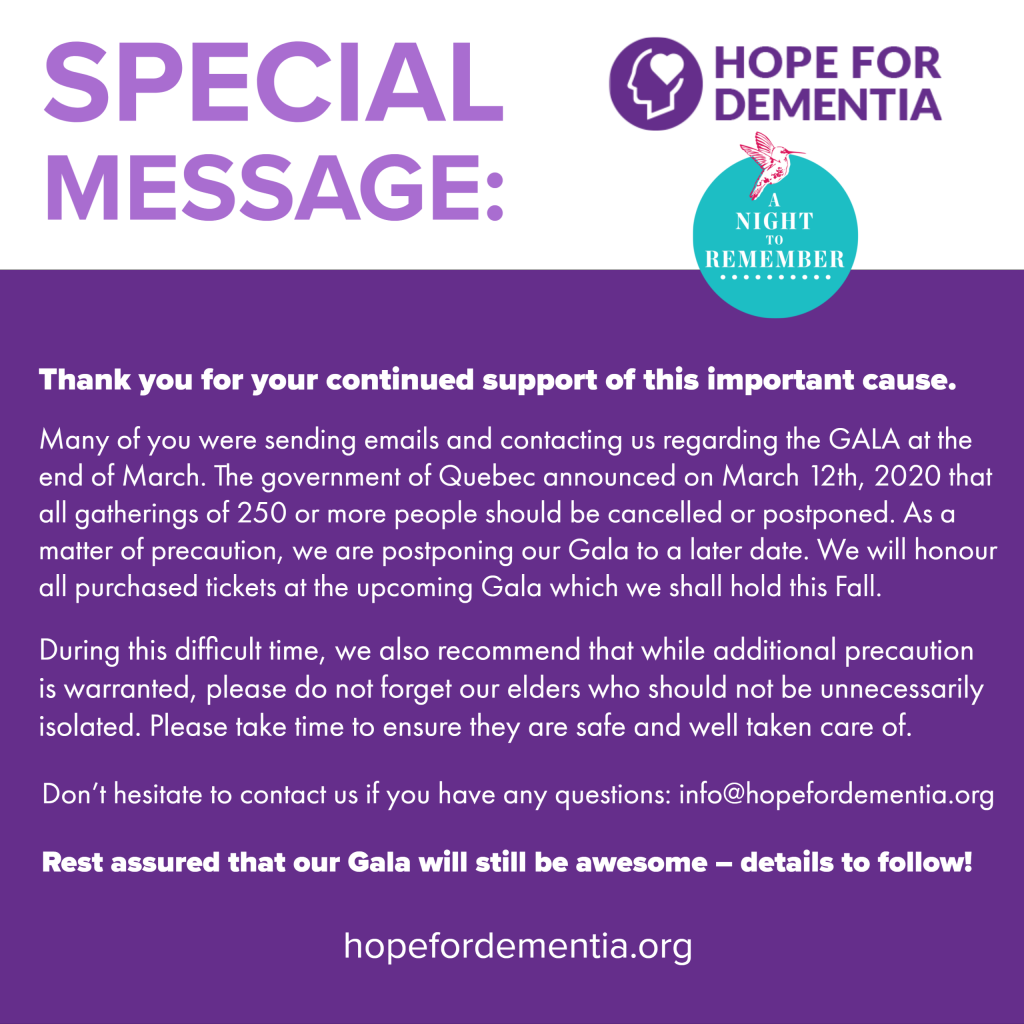 You are cordially invited to attend an incredible evening full of inspiration and entertainment to support the diagnosis, treatment, and prevention of dementia and other cognitive disorder as well as the important work being done by the Alzheimer Society of Montreal. In addition, this year we are collaborating with the gentlemen behind A Night to Remember: For the past 8 years they have held an annual Impact Gala to raise awareness in the battle against this disease, a disease that took their fathers far too early.  We are beyond excited to collaborate with them as we know our IMPACT can be made stronger together! 
Proceeds made from this event go directly to our objective: To focus on prevention and early detection of this disease. There is a tsunami of aging upon us and we don't have enough care givers for number of aged seniors coming in our health system. We want to get a head of the curve!
𝗦𝗮𝘁𝘂𝗿𝗱𝗮𝘆, 𝗠𝗮𝗿𝗰𝗵 𝟮𝟴𝘁𝗵, 𝟮𝟬𝟮𝟬 at the Plaza Volare | Crowne Plaza Hotel at 6600 Cote- de-Liesse in Saint-Laurent.
𝗦𝗶𝗻𝗴𝗹𝗲 𝗧𝗶𝗰𝗸𝗲𝘁: $𝟮𝟱𝟬 | 𝗧𝗮𝗯𝗹𝗲 𝗼𝗳 𝟭𝟬: $𝟮,𝟮𝟱𝟬 | Tax receipt of $125 per ticket (includes full sit-down meal)
::Tentative Evening Program::

Dr. Howard Chertkow, Chair in Cognitive Neurology and Innovation & Senior Scientist, Rotman Research Institute

Colonel Dr. Rakesh Jetly, Senior Psychiatrist & Mental Health Clinical Advisor, CF Surgeon General

Emmanuella Lambropoulos, Member of Parliament for Saint-Laurent

Dr. Sylvie Belleville & Dr. Martin Arguin, Research Director, Institut Universitaire de Gériatrie de Montréal (IUGM) & Prof. University of Montreal, Dept. of Psychology

Dr. Horst Zerbe, CEO IntelGenX, New Class of Therapies for Dementia

Marc Baaklini, President Political Commission of CAQ
​Philippe Roy, Mayor Town of Mount Royal

Entertainment: Albert Nerenberg: "You Are What You Act"
Live Painting with Dawson College Student, William Bissonnette
​Event Master of Ceremonies: Luana Borelli & Carl Baillargeon

Live Music by DJ Mario & Francis Demers Productions Music & Live Entertainment

Cocktail Hour, 4 Course Dinner Served with Wine & Raffle/Silent Auction